After biking the kids to school this morning Steve asked me if I wanted to try something new. I had a feeling he was taking me to our friend Sam's favorite coffee shop in the Sunset, near the beach. It's called Trouble and it's on the N Judah line on Judah Street in-between 45th and 46th.
Source: Giulietta C, owner of Trouble
We're not big coffee drinkers but I remember Steve saying Trouble's scones rival Arizmendi's, our favorite local bakery. He even muttered something about being on the same page as Tartine. It turns out I got a lot more than a scone that morning.

Source: Everymag.com

The first thing I noticed rolling up was the groovy parklet (two parking spots converted to outdoor cafe seating) with a giant tree trunk turned bench in the middle. Then I noticed all the hipsters and surfers piling into this quaint little shop with lots of funky, weathered treasures.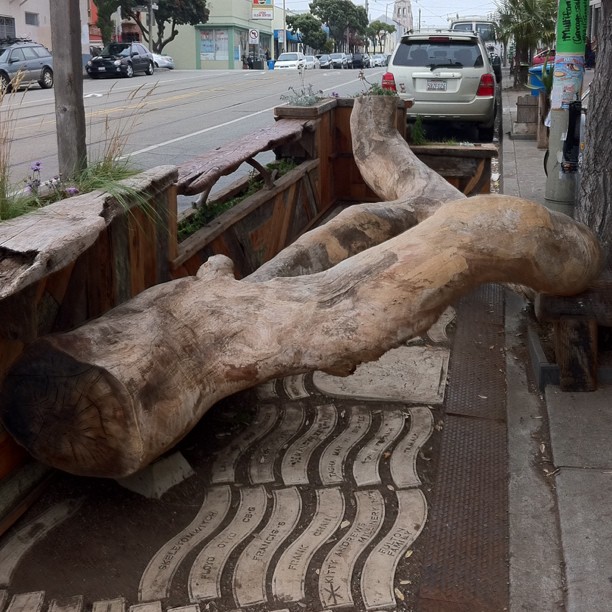 Source: Missionmission.org
The scrubbed down glass front door is full of vintage photos.
The front door to the cafe
The coffee beans sit in old glass jars. There's even a dress form perched on a shelf, vintage photos plastered on the door, an old map of

San Francisco

on the wall, and a giant slab of 4 inch thick raw wood for the counter top. My first instinct was to snap photos for my blog.
But then I noticed something that pulled my eyes away from the decor and to the pulse of the shop. I noticed the owner, Giulietta Carrelli, chatting with customers.
Source: Edible Communities



There was something different about this coffee shop. The people behind the counters, the people sitting at the counters, and the people rolling in and out the door had a connection. It was almost like Steve and I were outsiders, stepping into someone's kitchen- in their home. Not only did they all know each other but the lines between the people running the shop and patronizing it were blurred. They were all simpatico.




We started asking people what they were ordering and soon discovered the toast with cinnamon sugar and butter is famous. The coffee is Ecco cafe

and the cappuccinos are the espresso drink of choice here, not lattes. We also found out what "Build Your Own Damn House"— which jumps out at you from the menu— means. It's a package meal-- a young coconut, cup of coffee, and cinnamon sugar toast for $8. It also has another meaning which I will get to soon.
Steve and I shared a latte because there is no decaf and caffeine gives us the shakes. But, after talking with the owner about foam and texture she offered us a cappuccino on the house which was even better. We polished off two scones in a matter of minutes with the orange chocolate one being our fave.
Source: BiciB via Yelp
I started talking to Guilietta and learned how her cafe came to be. She had fallen on tough times, was looking for a career opportunity and saw a need for a good coffee shop in the Sunset. She literally was surviving on coffee, coconut and toast for months so she could save up enough money to open Trouble. She ambitiously signed a 7-year lease with the landlord and built her business from the ground up, so to speak. She did the carpentry herself, was resourceful in acquiring the items she needed to run her business and knew the exact number of beans that went into each espresso. Guilietta "built her own damn house"-- a thriving business. Many of the people you see today behind the counter have been there since the early days and she considers them family.
But opening up a successful business with limited means and experience isn't the only trouble Gulietta has had to overcome. Two years into running her shop she became a single mother of twins.
She's built a strong community of loyal employees and customers. The people who run the café with her also babysit.




I saw something in her that day that I see in myself. She has a work ethic that is relentless. She doesn't take no for an answer, and she is steadfast in her opinions-- even about lattes. "Why put more cow juice in your coffee? I don't get that!"




Guilietta even knows how to override the building department's bureaucracy. She is the only business owner in the city who built a parklet without an architectural rendering of her plan. She funded the permit fee with customer donations. Their names are inscribed on the cool wooden panels that cover the ground of the parklet.




Back to my initial intrigue--the decor. The old San Francisco map on the wall with pins sprinkled all around the city. Those pins represent people who helped Giulietta when she needed them.
The photos on the front door as you walk in. Those have personal meaning too. The picture of the nun is her mom who left the convent and later married Giulietta's dad.

The picture of the woman with a saw in the upper left hand corner of the door. That's Giulietta building her coffee shop herself. She says people ask to buy the memorabilia in her shop to take with them into their own spaces.
What they don't realize, Giulietta says, is that everything in her shop has meaning for her— has a story behind it that has helped her get to the place she is today. They're not just objects of art they are memories and reminders of how much her community-- her family-- has helped her build her dream. And they are not for sale.




She's been written up a bunch of times in cool publications like Sunset Magazine, NY Times, 7X7, San Francisco Magazine

, among others but none of them have focused on how hard Giulietta has worked to build her business and the importance of forming a tight knit community to ensure it thrives.




There are many layers to Giulietta but the one that stuck to me is how the feeling of her shop, the amazing food and coffee she serves, and even the decor are so much more than just eye candy and sweetness for the taste buds. She serves food and drink for the soul. I definitely felt my soul touched that morning.




Thank you Giulietta for sharing your story with me. I hope it inspires others as it has inspired me.
P.S. We went back a few days later to try this fat slice-- AMAZING-- and such a throw back to my childhood! Sorry, mom, but Trouble's cinnamon sugar toast just doesn't compare. Source: Loila S via Yelp