A month after my living room was shown in This Old House, the magazine called to ask if they could feature my entire home in an 8-page spread! I gasped and then chuckled because that same day I read Joni's blog on Cote de Texas called "Coveritis Wannabe." (The story pokes fun at house-obsessed people who are "constantly fluffing one's home to make it worthy of a magazine cover-- at a moment's notice" versus people who want-to-be photo ready at any time.) H
ow ironic! I definitely fit into the "wannabe" category!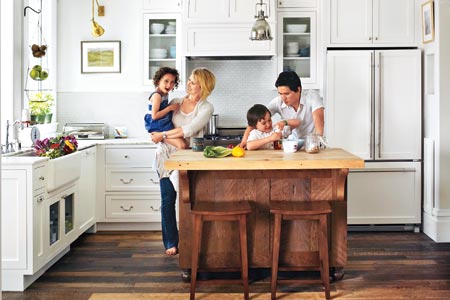 Ageless Update by Deborah Baldwin--
A determined DIYer's use of salvaged materials helps her family's eclectic 1911 rowhouse get a new lease on life
This Old House Magazine
Of course I was thrilled (and terrified)! They asked me if my yard was blooming because if so, they wanted to do the shoot sometime in the next 3 weeks. Yikes! I immediately ran into the yard and spruced it up, then sent in the scouting photos with my fingers crossed.
Outside the playhouse
I was afraid if I didn't act fast, they'd suddenly realize my house was NOT magazine material, and cancel the whole thing!
They approved the blossoms, confirmed the shoot date, said it would take two full days, and sent me the phone numbers of the photographer and stylist. Then, just as Joni describes in her story about getting her house ready for a photo shoot, I started flipping out about how I was going to make my house picture perfect for a magazine! Was it even possible?
Hard to believe, but this is where it all began just two years ago
My first thought was there is no way our family could actually be living here during a magazine shoot. We will need to stay in a hotel! Then I started making a honey do list-- patching nail holes, getting rid of clutter, finishing shelving projects, pulling weeds, moving mulch, and on and on. Normally, this list would go unchecked by my husband, but with the thrill of a looming photo shoot, I had his full attention and cooperation. No easy feat!
Honestly, I had no idea how these things work. All I knew was that homes in magazines are perfect. They hardly looked lived in and we do a lot of living in ours. I spoke to the photographer, James Carriere, who put my mind at ease. He explained that we could sleep in our beds, eat meals in the kitchen, and even take showers. (I was afraid of getting the tile wet!)
The stylist, Caryl Eagle, arrived on site a couple days before the shoot with a punch list from the magazine. The main task at hand was to throw in bold pops of color. I can't say all the blue accent colors were my taste but I did learn that what looks good in a magazine is not necessarily what looks good in real life. The pops of color look lovely in print, but I still prefer my muted linens and washed out toiles at home.
Flowers everywhere & new shiny objects (untouched) sparkled in the kitchen
The day of the shoot, my house was filled with huge pieces of equipment.
The photographer and stylist went one-by-one setting up all their gear and making the rooms
look precisely how they wanted them to look.
Giant lights traveled from room-to-room as they studied the natural light and compensated where needed.
The shots were instantly viewable on the big screen pictured here so they could get the precise photo they wanted every single time.
The foggy summer day provided the perfect light for a shot of the playhouse and garden
It was fascinating to watch them adjust the room for each shot. Tiny movements of objects, a slightly different angle, changing art on the wall, a blanket peaking through a corner all synced up to form the perfect shot. Really, my house was only half the picture. The placement of the perfect objects, the perfect colors and the angle and position of the camera (which I learned cost as much as the new kitchens it photographs!) all work together to make a magazine photo. I think some of the rooms look better in print than in real life!
Later, the photographer would edit the blemishes like nail holes and other real life imperfections.
The nail holes in the wall will vanish along with the photo of Granddad, if the editors say so
I still pinch myself when I see my home in print. The article itself is a funny, honest portrayal of the ups and downs we (and my contractor's crew) went through as we overhauled our 100-year old home. The pictures unveil the sense of calm I sought after in the design of my home, and the story reveals the protests I endured to create the home I desperately wanted.
The September 2011 issue of This Old House should hit the stands any minute. Once it goes online I look forward to sharing it with you here on my blog.