My husband Steve was thumbing through a This Old House Magazine last winter when he came across a contest for The Best Reader Remodel. He encouraged me to enter the contest and I thought, "Why not?" I put the magazine in the "to do list" bin and kept procrastinating. I kept thinking about how it took us a year and a half to remodel 90% of this house and it's going to take us 10 years to finish the last 10%! I can't win a contest with that 10% hovering over me. So, I began tidying up...
I finished the shelving project in the kid's bath...put the towel bar that "fell" off the wall, back in place...puttied the gaping nail holes where the butterfly screws didn't quite do the trick...built the flower boxes I kept meaning to make...put the door knobs on the art studio's door...had the garage sale to get rid of all the crap in the garage to make room for all the crap in the yard...and on and on. Finally, I realized the contest deadline was in two days and it was now or never with this old house. So I snapped away.
I sent in my photos and a plea for my newly transformed house, and I actually got a call! Really...who wins these things?! My living room did!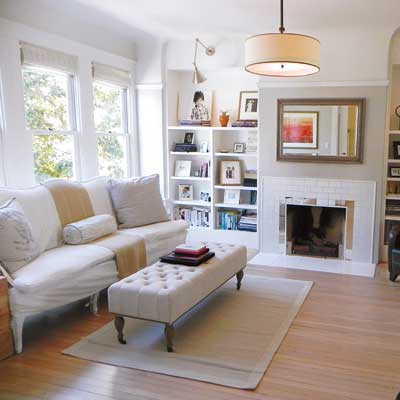 To see the before, click on the photo